During 2017, the company continued to focus on growth, one of the priority objectives it set itself after its re-founding in 2011. In this regard, the company has increased the number of car parks by 85%, up to 375, while the number of car park spaces has increased by 53%, currently standing at 208,000.
With regard to activity in 2017, there was an overall increase of 4%, largely due to Portugal which was the best performing country in 2017 and continued to build on its growth of previous years. Growth stands at 2%, if Chile is included, with a total of 80.5 million short-stay hours. Saba also maintains the recovery in subscribers, around 4% with the number now standing at 44,185 thanks to marketing efforts and improving macroeconomic and consumption factors.
In terms of growth, in Spain is worth mentionning the purchase of a car park with 200 car park spaces at Plaza de Los Sitios in Zaragoza, as well as the completion of the acquisition of 100% of the Las Mercedes company, which manages two concession car parks in Getxo, with a total of 219 short-stay car park spaces.
In Italy, the company opened a concession car park, Verona Arsenale, with 209 car park spaces. In total, the company manages 30,000 car park spaces in the country. In Portugal, where Saba manages 17,000 car park spaces, Saba was awarded the lease for a car park in the tourist area of Gaia (Oporto), with 229 car park spaces, and another in Lisbon, in Nos Campo Grande, with 136 car park spaces. Finally, in Chile the company was awarded the management of three Cenocosud shopping centres in the capital Santiago, which represents adding 12,300 new car park spaces, doubling its previous volume. The company now manages 30,000 spaces reinforcing its position as the leading operator in the country. Recently, the company was awarded the concession of a new car park in Santiago de Chile, Plaza Mekis, with a total of 452 car park spaces.
SUBSCRIBERS
0
Subscribers (no management)
SHORT STAYS
0
Million short-stay hours (no management)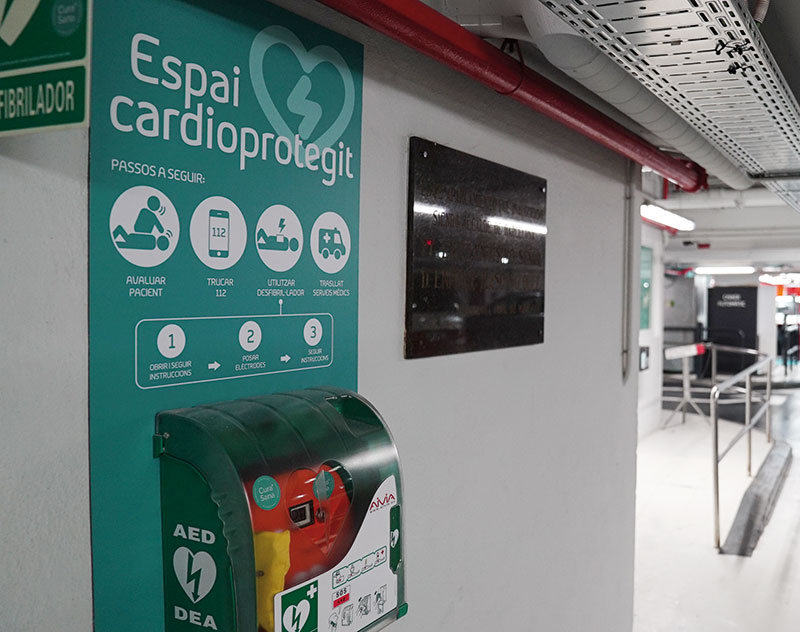 CARDIAC PROTECTED AREAS IN CAR PARKS
Early defibrillation is a key element in the treatment of sudden cardiac arrest. For this reason, Saba has installed 9 semi-automated external defibrillators (SAED) in its car parks in Barcelona.
These devices, approved for use in accordance with current legislation, are able to analyze a person's heart rate as well as determine when it is necessary to proceed with defibrillation and administer the discharge at the level of intensity necessary to restore the patient's normal heart rate after suffering a heart attack.
Saba's cardiac protected spaces can be used to autonomously attend to a person who has suffered a cardiac arrest and alert the emergency services. In this regard, Saba employees have received the necessary training to use these defibrillators safely.